Michael Fellinger

Bass Trombone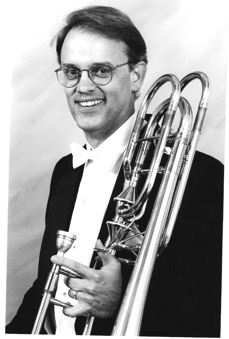 Hometown:
Ft. Smith, Arkansas
Age when you began playing your instrument?
12
Year joined SDSO:
1978
What other orchestras have you been a member of?
Orquestra Sinfonica Brasileira (Rio de Janeiro)
Schools/degrees:
B.A. Music Ed. from Arkansas Polytechnic College
MM started at New England Conservatory/Finished at SDSU
Area music affiliations:
Prof. of trombone, SDSU
Recordings:
All SDSO recordings
~soundtrack to movie 'Kate and Leopold'~
Hobbies:
Puzzles (NY crossword, Sudoku)
Golf, Chess (used to play--hope to again)
Do you teach?
Yes
Married to Barbara Fellinger
2 Grown children-- Tom, Becky
3 Grandchildren--Emily, Ethan, Declan
2 Dogs--Thumper, Bear
Contact me